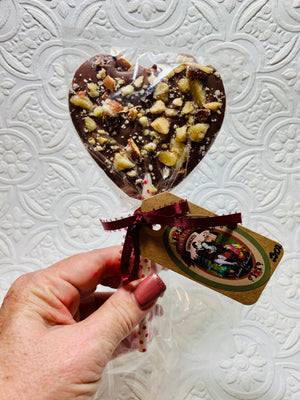 3 oz. Chaca Love Pop
Sale price Price $10.00 Regular price
This 3 oz. Chocolate Pop is laced with yummy crumbles! It's thick and crunchy and couldn't possibly be eaten in one sitting... unless of course, you share!
Available in your choice of dark or vegan milk chocolate. We hand pour only 6 at a time because of this very special old fashion mold we found. It's real chocolate from the finest ingredients that make this a super unique handmade gift for someone special.
Because of its popularity, we have expanded the available flavors. Choose from:
Candied Ginger Milk
Almond Milk
Cherry Almond Dark
Dried Blueberry and Banana Chip Dark
Make your selection with the drop-down menu "Choose your Pop".