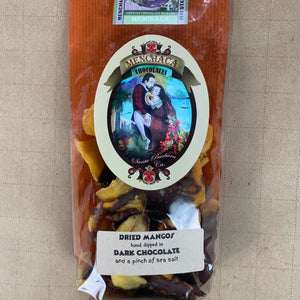 Mangos dipped in Dark Chocolate with sea salt - 8oz.
Sale price Price $15.00 Regular price
One of our "Can't make enough" goodies.  It just hits the spot. A flavor perfection combo. I just can't explain.  These dried Mangos are hand- dipped in our 60% Dark chocolate and then sprinkled with Himalayan Sea Salt.  Most the time ordered in 4 bag increments I suppose they don't want to run out!